Channel: Blog BANC
Program: Impulso Redes 2016
This Forum is part of the Program to Promote the Business Angels Networks with the collaboration of the Ministry of Industry, Energy and Tourism.
Barcelona, on October 14th 2016. On October 11th, an investment forum was organized by BANC – Business Angels Network of Catalonia – in its own offices in Barcelona. 6 entrepreneurs from various fields made a pitch of three minutes in front of a group of investors and mentors.
These were some of the projects:
GRAPE: It is a clothing sustainable brand that produces special design clothes for man. They produce their products with raw material and its manufacture is in Barcelona.
NOVA ESCOLA PRIVADA: It is a private school that follows the Finnish educational system for children with good skills. They have the latest technologies.
URBANCHEFS: Website where customers can ask for a personal chef service. This chef will cook and clean in the customer's home.
UPTAPP: This platform is focused on the creation, planning and optimization of transport routes.
PLACE TO PLUG: It is a platform to connecting electric vehicles with charging points.
BUS TO GO: New concept of youth tourism by bus. They also offer activities and guided visits.
After the presentations, the participants had the opportunity to exchange experiences and contacts.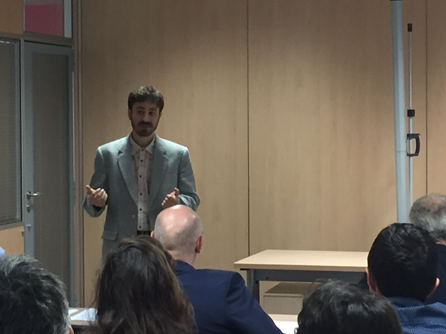 Picture during one presentation
About BANC & the Program to Promote the Business Angels Networks
BANC was the first Catalan and Spanish private Business Angels Network. Its founders were the CECOT employees and the Private Foundation for the Promotion of Self-employment in Catalonia (AUTOOCUPACIO) with the collaboration of ICF Institut Català de Finances. BANC belongs to the Xarxa d'Inversors Privats (XIP), and it is a member of the Spanish Association of Business Angels Networks (AEBAN) and the European Business Angels Network (EBAN). It is the promoter in Spain of the Global Business Angels Network (GBAN)
The main goal of the Business Angels Network Support Program is promoting the development of the services provided by the Business Angels networks. These networks contribute to the professionalization of the actions carried out between SME companies that need capital to develop their projects and "proximity investors" or "Business Angels".  BANC has the financing of the Ministry of Energy, Tourism and Digital Agency through the Program of support of Networks of Business Angels.
In collaboration with: